Chickens are social creatures and can be amazing pets. You might love them having around since they do not cause a little trouble for you. All you need is to create a safe haven for your tiny friends so that they can relax and enjoy their privacy without any disturbance. When it comes to privacy, a chicken coop will first come to your mind.
Chickens coups can offer the best protection to your pet bird. These are available in different sizes to meet the unique needs of bird pet owners. You can find chicken coops for two chickens or for eight chickens as well.
Chickens coops are well equipped to meet the specific needs of chickens. You can invest in a good chicken coop. If you are not interested in buying one and want to make it more personalized, you can consider constructing impressive chicken coops. Yes, you can do this without any skill and experience.
You will find countless inspiring and funny chicken coops ideas on the internet. You just need to choose the right one. Once you choose the design, get all the equipment ready and construct your own chicken coop to provide a caring and secure living place to your little feathered friend.
Are you still confused? Are you looking for the best impressive chicken coops ideas? If yes, keep reading to be familiarized with some inspiring and funny chicken coops. These are easy to follow and can be made without any expertise.
Pallet Palace Chicken Coop
As the name itself suggests, you will need 22 standard oak pallets for this chicken coop. You will have to use the same pallets to get the best outcome. You will need eight pallets (8′ x 16″) for back walls, 4 pallets (8′ x 8′) for sidewalls, and 6 pallets (8′ x 16′) for front walls. Visit backyardchickens.com to know more about design and construction.
Now you know the sizes of pellets that you need to make your pallet palace chicken coop. The next is to find out the proper place for your project. You will have to make sure that the surface is flat so that it will be easier to line up the top and bottom. Once the walls are attached, you can stand them up to install the roof.
While installing the walls, make sure that there is an opening space between the front walls that will work as the door of the coop. You will have to first design this chicken coop in your mind before giving it a form. Know the size and design and then only you can go ahead with the project.
The next is your coop floor. For the coop floor, you will need a horizontal-shaped wood piece. Give careful attention to ensure a perfect installation. Once the floor is installed, you will have to focus on the windows. Here you will have to make sure that you have made the windows before installing the walls. From my experience, I can say that you will have to first cut the skids to make windows. Once installed, it will be much difficult to do so.
The benefit of the Pallet Palace Chicken Coop is that it is spacious and well designed. Your bird pet will find the best living space with proper ventilation and a large area for laying eggs and relaxation. There will be windows and a door. They can enjoy their outside activities like the running area will be well-planned. Space is the key benefit. Hens love to roam around in a large and comforting area. This coup meets this specific requirement. There will be a lot of space for your tiny friend.
Whataburger Chicken Coop
You will love this design. This is super impressive and can gather the attention of all your neighbours and passers-by. This coup will not only create the best living place for your tiny bird pets, but they can also boost the look of your home exterior. Everyone is going to appreciate the Whataburger Chicken Coop. This design can be considered for any number. You just need to get the right shape depending on the number of your pets.
This chicken coop will create a healthy and friendly environment for your chickens to interact and enjoy. There will be areas for laying eggs and take the much-needed rest. If you want to know how to make a Whataburger Chicken Coop, you can visit outhernliving.com where you will get all the required help.
Dreamy Pallet
Dreamy Pallet is one of the best chicken coop ideas. It has everything to entertain your little friend with a cosy environment. It comes as a complete package. You can simply have a look at the design and then only you can understand why this design is appreciated by most pet owners. If you are interested in the rustic designs and want your chicken to be familiar with the rustic charm, it is certainly worth considering. Have a look at the design theskunkpot.com.
This wooden home is surrounded by the beauties of your backyard. You can consider using cedarwood pallets. The benefit of the cedar pallets is that they are extremely impressive and super durable. Also, this wood can withstand harsh weather conditions such as high moisture. You can make it look more eye-catching by planting some beautiful plants around. Your chickens will love spending time in their coop and it is going to boost their productivity as well.
Mysterious Woodland
Would you love to create a beautiful and mysterious coop for your dear bird pet? If yes, then this coop is worth trying. You will love both the look and feel. This is not about the design only. This coup can give the best protection to your chickens. It will protect your little birds from harmful creatures with a ranch around. For this coop, you can consider repurposing any available old pallets. So, you will not have to spend much on constructing this beautiful coup.
There is a transparent hinged door that will ensure proper ventilation and will help you to grab the eggs without interfering with your chickens' activities. This coop can complement well with lush woodland. You can use it to boost your backyard appearance as well. Visit theskunkpot.com to know the design of the mysterious woodland chicken coop.
Green Oasis
Green Oasis can be the perfect hen coop for all those who love nature and are interested in a natural and scenic look. It does not look beautiful and spacious only. This coop creates a healthy environment for your chickens. This design can also be best for restricted space. Your chickens will have enough open space to enjoy their outdoor activities and they can take a rest in their coop whenever their tiny legs will be tired.
This chicken coop features a simple design. You do not need much expertise and space to give it a form. There will be enough open space to enjoy a sunny and airy afternoon. You can choose any of your favourite colours to complement the other decors of your backyard. Some preferred colours are tan, beige, brown, and white. Also, make sure that the surrounding is green so that your bird pets can roam in a natural open space. Have a look at theskunkpot.com to know more about the design.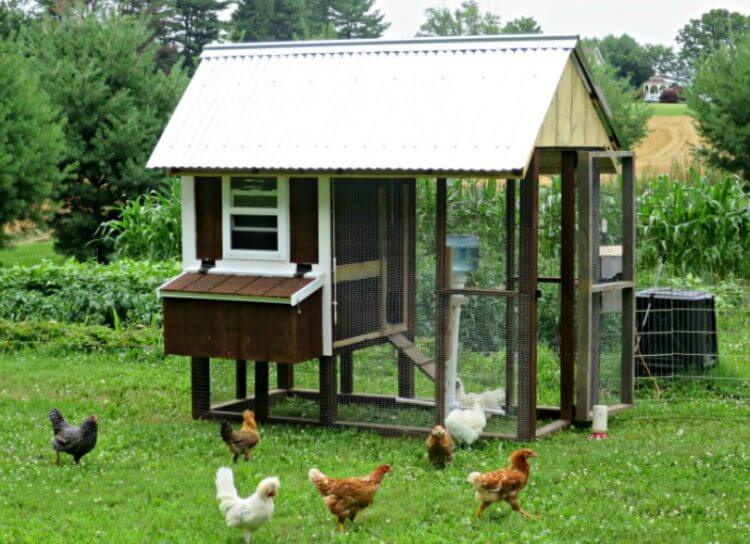 Super Homey
The design is so impressive and stylish. You will love this chicken coop for sure. It looks really stylish and impressive. It has everything that you can expect from a good chicken coop. There will be enough open space for roaming. The wire mesh design and the relaxing flavour will draw the attention of many.
For this beautiful design, you will have to choose some impressive paints like pristine white paint or red paint. Both these colours will give your coop an appealing look. Even if your backyard looks so dull without any sign of nature, you can consider this design to make a difference. Have a look at the design to get inspiration theskunkpot.com.
Go Bold
If you are looking for the best protection and a home-like feel, you should not look beyond this option. It is a miniature home. It will have everything that includes the design, feel, and look of your home. This chicken coop design also looks very fashionable. You might enjoy spending some time with your tiny friends in the coop. It will create a comfortable environment for you both. This coup offers the best protection and chickens can lay eggs and enjoy a relaxing time without any fear.
You can use any of your favourite colours. But it is suggested to go with neutral and vibrant colours. Yes, you can make it even more beautiful by planting some flower plants around. You can also put some blooming flowers in colourful containers and keep them just next to the coop doorway. Here is the look of the beautiful Go Bold chickens coop.
Wrapping Up
You can choose any of the above designs for your chicken coop. All of them look impressive and protective. However, you will have to consider the space and design of your backyard to choose the right coop for your chicken. Also, the number of your chickens will have the deciding role. If you have more chickens, you might need a large size.